Choose the proven path to fitness with a Smart Start!
When it comes to motivation, your brain is a mysterious creature. One minute you're pumped, full of enthusiasm. A few weeks later the excuses start to creep in, and before you know it you haven't been to the gym all week. SMART START is a beginner's plan for fitness that is based on scientific research. Follow this simple approach to guarantee that your first steps to fitness are the start of a long and healthy habit.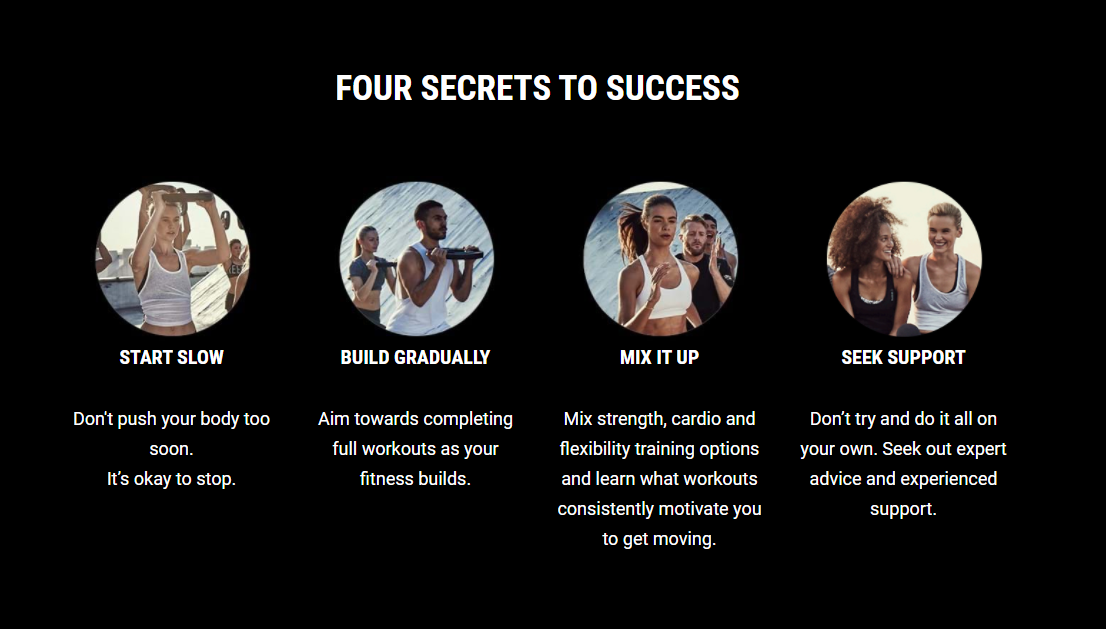 ✔️ SMALL CHANGES
When you're starting out, a good goal to aim for is 150 minutes of exercise a week. Research shows that with 150 minutes of exercise a week you will start enjoying the health benefits of exercise.
There are lots of ways you can begin to get active. You can start with group fitness workouts, walking, bike riding or even just choosing to take the stairs instead of the elevator. Even if you can only manage 10 minutes at a time, remember, it all adds up in the end.
When you have reached, and acclimatised to 150 minutes of exercise a week, the next goal is 250 to 300 minutes. This is the suggested amount of weekly exercise needed to begin seeing some of the physical changes that accompany exercise without making any changes to your diet.
If you're up for this challenge you can begin following our scientifically-proven six-week introduction. This workout plan lets you know how to mix up your workouts to maximise effectiveness and keep it interesting.
Another smart move is to set some goals. Setting goals can be a huge help at any stage of your exercise journey. We suggest setting two goals: one based on the results you're after, and one on the behaviour you're trying to change. For example, I want to drop one jeans size and I want to get to the gym twice next week. Stick these goals somewhere you will see them often, like on the fridge or bathroom mirror.
Whatever you do, make sure your goals are realistic and don't be too hard on yourself – remember, you're just starting out. As you reach each of your goals you can re-evaluate how much time you are exercising and what you are trying to achieve.
✔️ GET TOGETHER
People who work out in a group are far more likely to stick at exercise than those who go it alone.
Get Fit Together, a study conducted by Dr. Jinger Gottschall from the Pennsylvania State University, followed 25 sedentary adults through a 30-week program of group fitness classes.
The 30 weeks started with an initial six week period encouraging the exercisers to "dip their toes" into fitness before building up to a six-day-a-week exercise schedule. The gradual introduction meant that instead of feeling sore from overworking unfit muscles and giving up, the group actually enjoyed their path into exercise.
The results were awesome – so good that participants delayed the onset of cardiovascular disease by an average of 3.6 years! Over the 30 week study, 20 out of 25 study participants never missed a workout – a compliance rate of 98.8 per cent – almost unheard of in exercise studies. This commitment is proof that, when it comes to exercise, you shouldn't go it alone – combining a steady start with the support of others works wonders.
✔️ SETTING A SCHEDULE
✔️ AFTER SIX WEEKS
Well done for making through your first 6 weeks! To really lock in your healthy new habit, the next 12 weeks is just as critical to success. Each week from now should include 3 x 60-minute cardio workouts, 2 x 60-minute strength workouts and 1 x 60-minute session of core/flexibility work. If you want to find out about cardio, strength, core and flexibility workout options you can discover more here.
HEALTHY EATING IS JUST AS IMPORTANT! Next post coming soon…
Need more info and guidance? Come and see us at reception or contact us via the form below: